If you develop Facebook applications, or have a website you'd like to integrate with Facebook connect, you have undoubtedly seen at least some of the videos from the F8 Conference this weekend. By and large, I found the announcements impressive, the technology decisions smart, and the overall direction of the platform to be very exciting. Plenty of stories have been written about these initiatives and the impact they'll have on the internet at large.
But, here's a story that I haven't seen written (or at least, hasn't bubbled up in Hacker News): a lot of this stuff doesn't actually work. All of the developers must know this. The forums have been down since launch. In some of the talks they admitted that although these features are live right now, they are not yet documented (ie. you can't use them). And, there's my favorite: they released the Like button for the web… which works everywhere except on Facebook.
The Like Button

With the announcement of the social plugins, I was immediately interested in getting the Like button up and running. This was, after all "just one line of HTML" per the presentations, so it should have been brain-dead simple. For the Like button (just one part of the Social Plugins inititative which is just one part of the overall announcements) I encountered the following interesting things:
It was live on CNN.com… sometimes. Various times throughout the last few days the button was there, then it was broken and had an error screen where the people's faces would be.
If you use Facebook Connect already, you're going to have to upgrade to the latest libraries to make use of the Like button. Not only is this upgrade undocumented, but where you used to find documentation for the old version, you now get redirected to the new documentation home page. So, even if you wanted to see how things used to work, you need to do some digging.


This search result, which used to take you to the documentation for this method, now redirects you to the home page of the new documentation.


You will eventually find that the new library has not reached feature-parity with the old one, and some of the features you used to rely on have not yet been implemented.
The Like button itself does not work on Facebook applications. If you write a facebook app, or want to put some FBML on a Boxes tab, etc… the Like button does not work there. <fb:like /> produces nothing.
Facepile
I thought the Facepile plugin made for a great pitch. Imagine going to a site and seeing your friends who are on it before you even sign up! A great way to increase conversions. The problem is, again, that it doesn't actually work.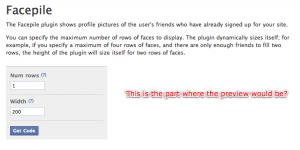 The Facebook developer forums were up earlier in the week, just after F8, but very few people could log into them. There were literally a handful of posts in the entire forum about all the new features that had just gone live. There was, if I recall, only one thread on Facepille. First post was that it didn't work, and there were a few responses that were effectively "+1".
Facebook Connect
Log in to sites around the web with your Facebook password. Pretty handy when it works – one less password to remember. When it doesn't work? Pretty disastrous. Facebook Connect was up-and-down regularly throughout the last few days. It didn't even work on the Facebook forums. Most of us were locked out (they had a backup signin mechanism, but that wasn't working either). Just remember if you're going to build a site and support Facebook Connect, having it as your sole authentication provider is a bad decision. Consider it a nice-to-have that might ease the friction of people signing up, but this is not a 99% SLA uptime universal login system.
Fixes Coming Soon?
I'm sure Facebook will get all of this cleaned up in time, I'm just surprised the degree to which they've been allowed to skate for 5 days without seeing stories pop up. When popular software companies put out sub-par products, the media slaughters them. The most popular site on the web is getting a pass.